In 2021 and 2022, we replaced our regular local races, which were cancelled, with our own races to benefit various Treasure Valley non-profits. We are so proud of our Boise Galloway members, who have generously raised almost $8,000 for these amazing organizations.
Hot Soup for Ukrainian Refugees
Our Spring 2022 10k and Half Marathon (June 11, 2022) was to support Hot Soup for Ukrainian Refugees. This group included concerned friends and family from Poland, France, and Idaho. They have been aiding displaced Ukrainians in Poland since February 28, 2022 … first with a smile, delicious soup, and bottled water at the border in Chelm, Poland. Now, as incoming refugee numbers wane and the weather warms, the group is  focusing on other needs, including providing groceries to multiple shelters and private homes, buying clothes for children, and funding preschool and Polish language classes. Boise Galloway raised $1950 to support this amazing humanitarian work!
Turkey Trot
Our biggest charity race of 2021, our Turkey Trot 10k/Half Marathon, took place the Saturday before Thanksgiving. Once again, our Boise Galloway members stepped up and collected $500 worth of food and supplies and a whopping $3,000 in donations to benefit The Idaho Foodbank.
On June 19, 2021, our second 5k/10k fun run was held to commemorate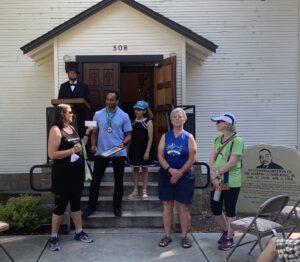 Juneteenth, the oldest nationally celebrated commemoration of the ending of slavery in the United States. Because of the generosity of
our Boise Galloway members, we were able to present a check for
$1,600 to Phillip Thomas, Executive Director of IBHM.
In January 2021, we held our first Boise Galloway members-only 5k/10k fun run to benefit Interfaith Sanctuary, and raised $800 to help this organization which is so vital to our community.